Now at your doorstep, Houston's hottest new restaurant, Osso & Kristalla. Serving breakfast, lunch, and dinner!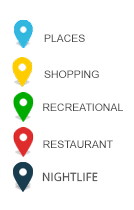 Walking The Walk In Downtown Houston
Use the map above to learn what downtown Houston has to offer. With eighteen restaurants, four parks and multiple museums all within walking distance, your adventure awaits!
Expertly Crafted Quality Apartment Homes
500 Crawford is developed, managed, and proudly owned by the Finger Companies. With over 58 years of multi-family experience, we have mastered the art of crafting luxury, residential properties in prime locations across the United States. Exceptional service and amenities are the foundation to each and every one of the Finger Companies communities, and we hope you choose to call us home. Come and see some of the other Properties that we are proud to own!